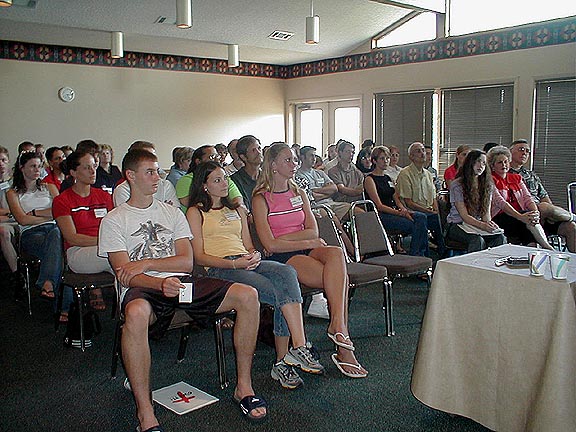 Probe's Executive Director Ray Bohlin welcomed the 29 students and many of their parents, explaining what the week would entail. He introduced the five Probe instructors and what subjects we would each be covering. Several of the parents, upon hearing this and looking at the schedule, said they wished they could stay and take it in all themselves! In the foreground are Kevin Clarke, Kristen Whitehead and Susie Smallwood.

We found out where the students were from. The great majority is from Arkansas, which makes sense, but it never fails to astound a number of the local students to learn how many come from other states! This year's students are also from Kansas, Illinois, Texas, Oklahoma and Arizona. Etienne Gubert wins the "prize" for coming the greatest distance: as a foreign exchange student staying with a Little Rock family, he's from France!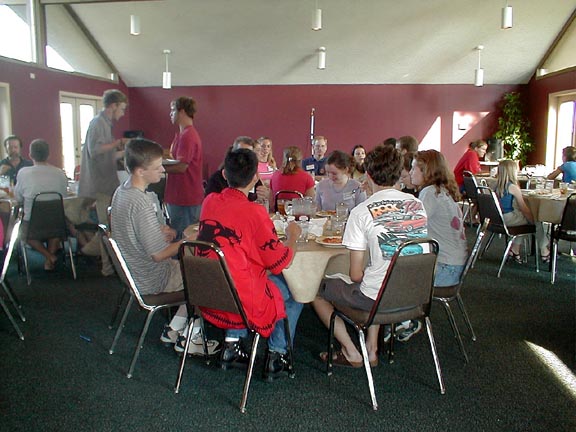 Ozark Conference Center's new Executive Director Michael Holetz donned the chef's apron for the week and provided a wonderful first meal of spaghetti, salad and broccoli, with strawberry shortcake for dessert. Each of the Probe staff members eats at a different table to give us more opportunity to visit with the students and get to know them as they get to know each other.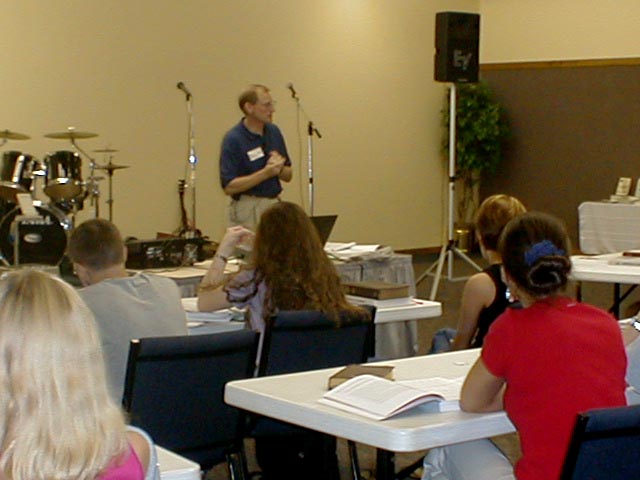 Ray Bohlin introduced the "big picture" of a Probe Mind Games conference: our goal is that the students learn to think biblically, communicate effectively and learn continually. He also shared the "big picture" of his personal educational and professional history, so the students could get a feel for where he's coming from and where his passions lie (in a word, science).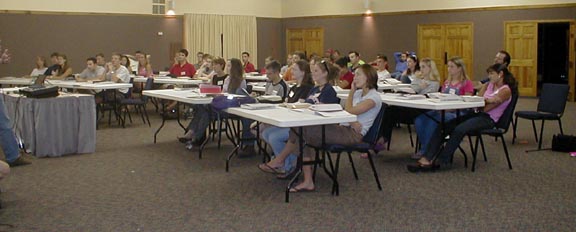 The students listen intently in the first evening session. They are introduced to their notebooks and to the faculty.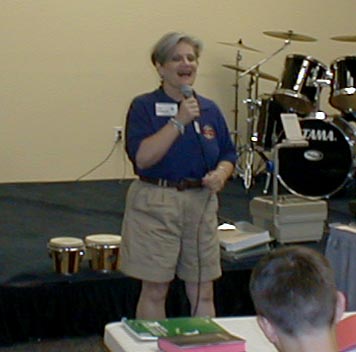 Sue Bohlin tells about her passion for gender issues, mentoring and teaching women, and ministry to homosexuals who want to experience healing and freedom. Note the open mouth -- Sue LOVES to laugh!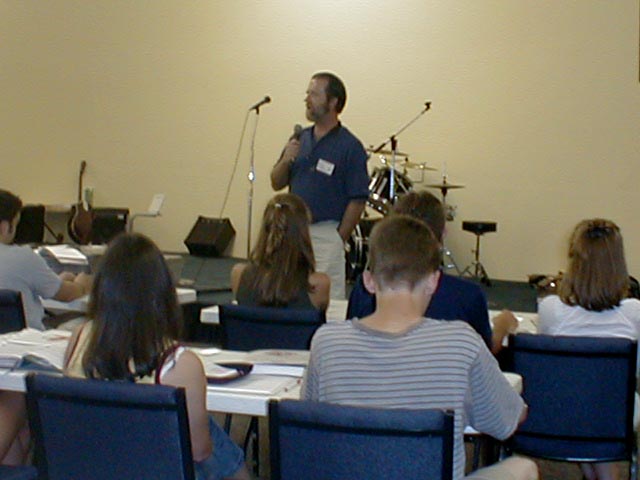 Rick Wade tells about his varied educational and employment history. We are fortunate to have a trained apologist with a passion for philosophy and theology who is also a certified machinist!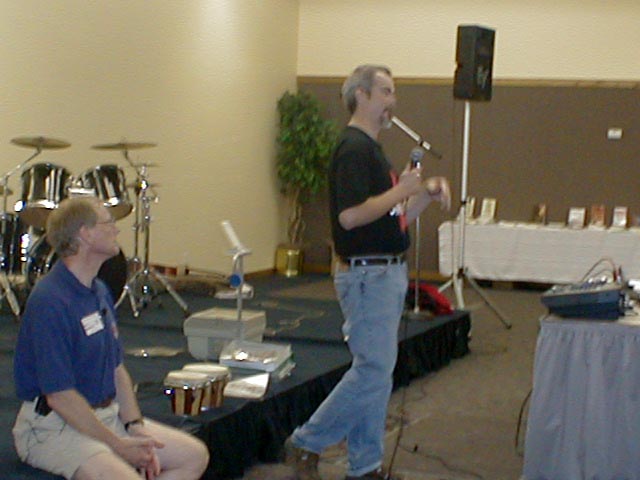 Todd Kappelman is a professor of philosophy at Dallas Baptist University as well as one of Probe's most beloved lecturers. His background in film and culture will provide for some interesting film-viewing and discussion later in the week.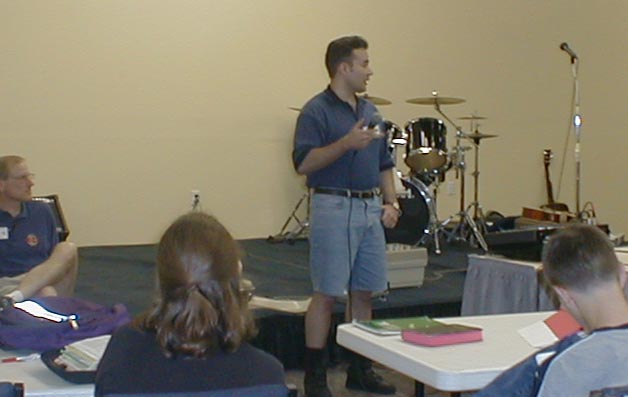 Michael Gleghorn went from a very rebellious at-risk teenager to a schoolteacher of a wide range of topics before joining the Probe staff.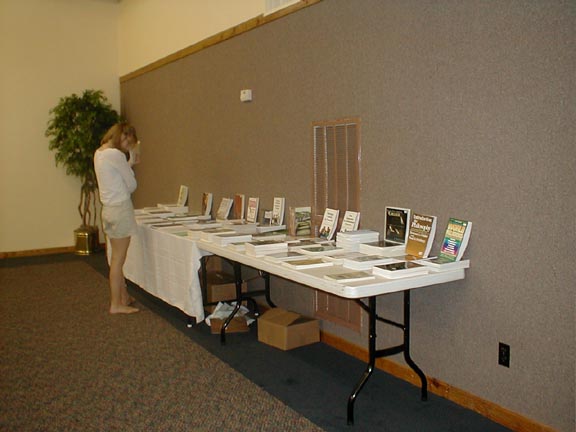 Shelly Cain starts her shopping early at our well-stocked book table. You'd be hard-pressed to find many Christian bookstores that carry the breadth of titles sold at a discount on our booktable.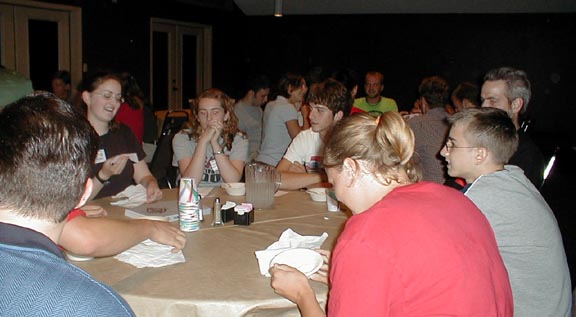 The Sunday night snack was "build-your-own-sundaes," accompanied by an icebreaker activity that got the students revealing facts about themselves. Here, Jordan Singleton regales her table with news about her intended future in the music industry. Listening are Ann Rogers, Andrew Whitbeck, Todd Kappelman and John Wray.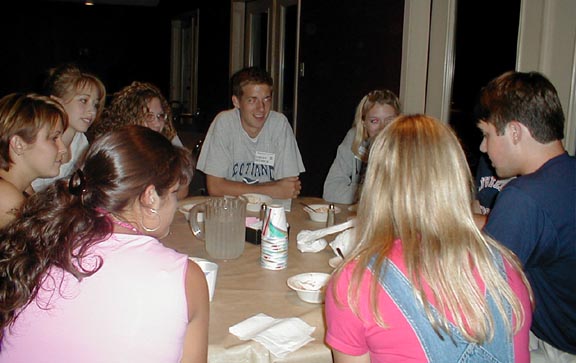 It is such a joy for us to see when students eagerly get to know each other. While Josh Baxter tells a story, Ann Haney, Shelly Cain, Keri Blunier, Steven Helmick, Jennifer Robison and (backs to the camera) Keeli and Shelly Warford listen raptly.