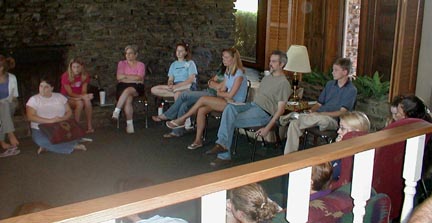 One of the week's most memorable events is always the "Return to Modesty" discussion led by Todd Kappelman and Sue Bohlin. All the students gather in a smaller, more intimate format to talk about the need for both men and women to be modest in dress and behavior. It's always MAJOR fun when we open it up by saying, "Girls, is there anything you want to say or ask the guys? And guys, is there anything you'd like to say to or ask the girls?" It's a most lively discussion!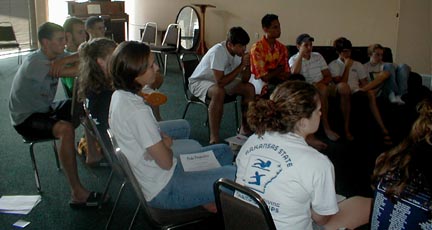 Because so many of the students didn't know each other at the beginning of the week and won't see each other after this week, they have a lot of freedom to speak their minds in the modesty discussion. The guys shared what constitutes immodest dress for girls: tight clothes, skin showing, anything that draws attention to one's rear end (such as words printed there). The girls shared that they are really bothered by the immodest behavior of making sexual jokes or weaving sexual innuendo into conversation. Oh, and sagging britches. <smile>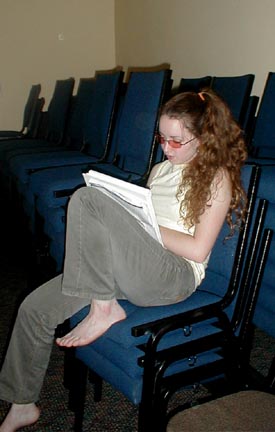 There are quiet moments for reflection, writing, praying and one-on-one conversation for those who want it. We found Gretchen Tressler writing a poem outside the meeting room where a dozen students were watching one of the short films that Todd Kappelman had brought for those who wanted to watch and discuss them.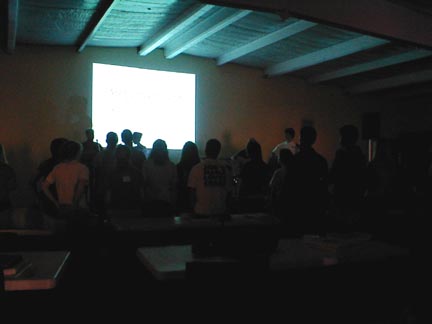 Before the Thursday evening session, we enjoyed student-led worship. The music team gave up some of their free time to practice a completely acoustic worship time. They decided to turn off the lights and move everyone to the front of the room to enjoy the sense of spiritual intimacy.
Ray Bohlin taught the new students after dinner on "The Inevitable Quagmire of Human Genetic Engineering." Even the non-science-lovers, feeling like they can't get many of the details Ray is speaking about, can worship the God who put all those details together and is such an incredibly brilliant Creator God! Other sessions today were Sue Bohlin's "The Value of Suffering," Ray's "Christian Views of Science and Earth History," and an alumni session by Michael Gleghorn on "Meaning and Purpose."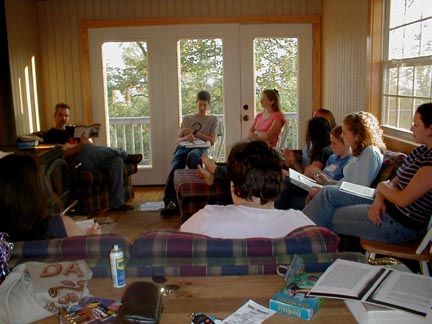 Todd Kappelman taught an alumni session on "Nietzsche for Beginners" in one of the beautiful villas where the Probe staff is staying. He had almost a double alumni session, as several alums from previous years came to the camp to spend time with Todd and sit under his teaching.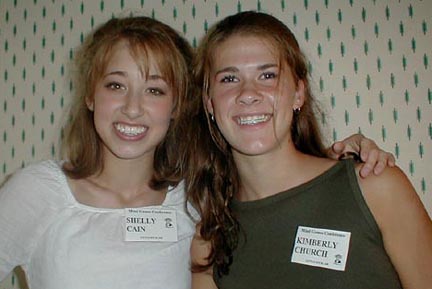 Shelly Cain and Kimberly Church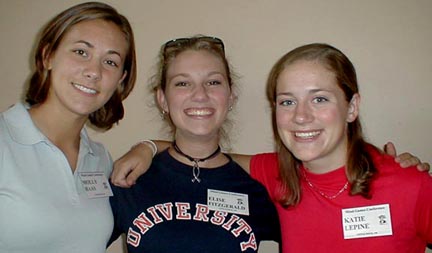 Molly Haas, Elise Fitzgerald and Katie Lepine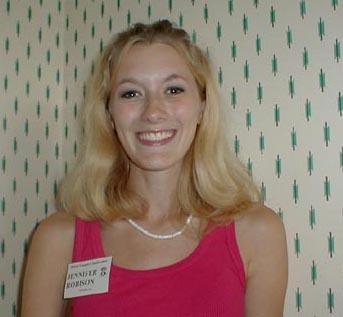 Jennifer Robison came from Tucson, Arizona for the week. If it weren't for Etienne coming from France, she would have won the prize for coming the farthest. . .if we had a prize to give! :)