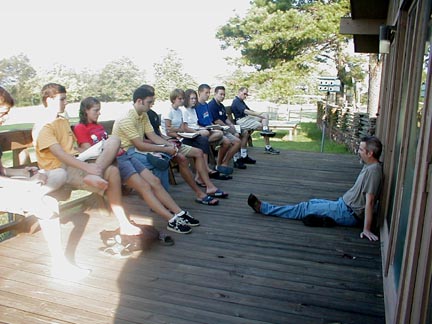 The Friday morning devotional with Todd Kappelman. Since the students started getting tired sooner this year than in any previous year, we were delighted to see so many faithful ones continue to show up at these optional sessions!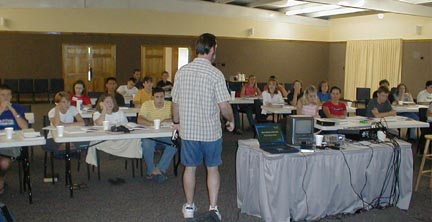 In the last whole-group teaching time, Rick Wade addresses "The Problem of Evil." Also covered this morning were "World Religions" with Michael Gleghorn for the new students, and Rick's "Confident Belief" for the alumni.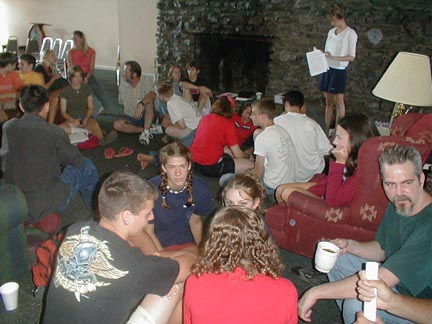 The food was so great and the cameraderie so warm that the students gathered closely waiting for the dinner bell to ring before lunch. It was a joy for us as staff to see the genuine friendship and enjoyment of each other that this group of students experienced.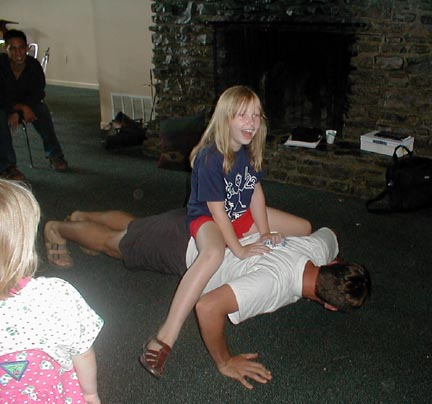 At Mind Games we address the whole student: spirit, soul and body. Here, Josh Baxter works on developing his muscles by doing pushups with Mackenzie Holets (daughter of camp director Michael Holets) on his back.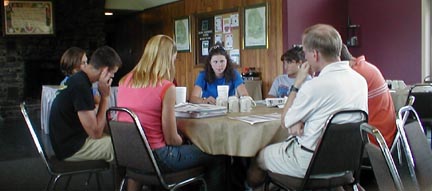 Ray Bohlin's reading group. He had the students read "15 Answers to Creationist Nonsense" from Scientific American.


We really are on a mountaintop! The camp owns much of the land, providing many MANY acres for hiking, playing, walking, and just BEING out in God's creation. This place is so beautiful it deeply enhances our time here. We can see lots of stars at night too!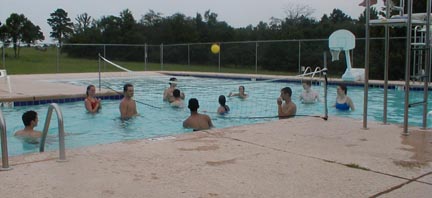 Pool volleyball in the Ozark pool that was specially designed to accommodate not only the needs of families with small children (it's one of the only zero-entry pools in the state of Arkansas), but Mind Games pool activities as well.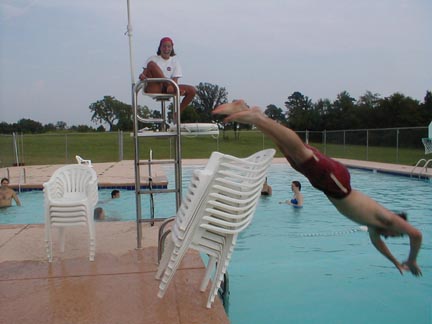 Two years ago when Jacob LeMaster was a Mind Games student, he set the Ozark record for vaulting over 15 chairs into the pool. Jason Baxter managed to jump over 11. This year, Josh Baxter wanted his turn to at least match his brother's personal best. Here, he's still figuring out his form.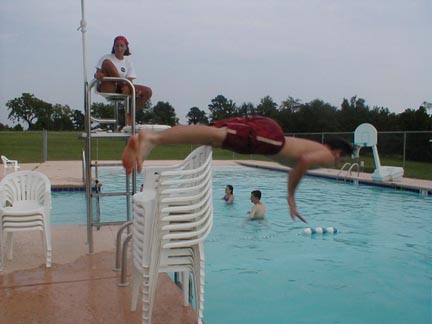 Josh eventually made it over 9 chairs, to the whoops and hollers of the appreciative audience.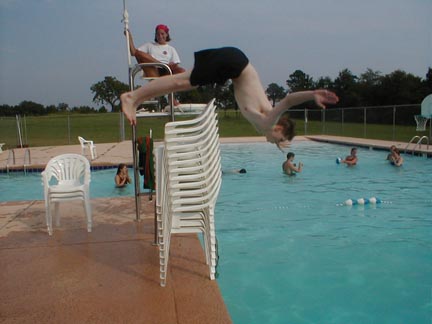 Jacob LeMaster came back for an alumnus visit and sailed over 12 stacked chairs.

One of the things that makes the National Mind Games conference so dynamic is the table conversation with students and Probe staff. Erik Wright, Todd Kappelman, Kevin Clarke and Elise Fitzgerald enjoy the discussion, which could as easily have been about the film we saw last night as various philosophers or Todd's famous eating habit of making any food serve as a "pepper delivery system."

In our final session, each Probe staff member asked the students a question from our lectures and gave a book from the book table as a reward for paying attention! Two students (Jordan Singleton and John Wray) got books for being the only ones still wearing their nametags. Then the students got to ask each staff person questions for 10 minutes.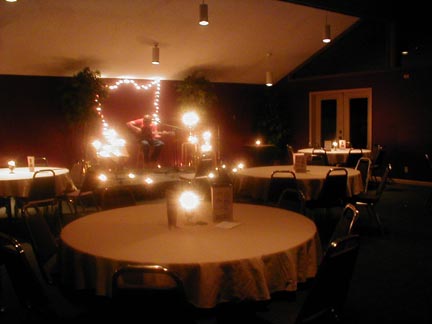 The Ozark staff put together a bang-up, "WHOA!!!" kind of coffeehouse after the Friday night session and movie. They offered a wide variety of very special coffees (named affectionately after each of the Probe staff's teaching topics) and homemade cheesecake. A stage and microphone were all that was needed for a number of students and Ozark staff to go up and entertain with songs, jokes, award-winning poetry recitation and even a takeoff on "Riverdance."


Two Executive Directors: Ozark's Michael Holets (who made sure we had an outstanding week) and Probe's Ray Bohlin, awaiting the students' arrival from the movie for the coffeehouse events to begin.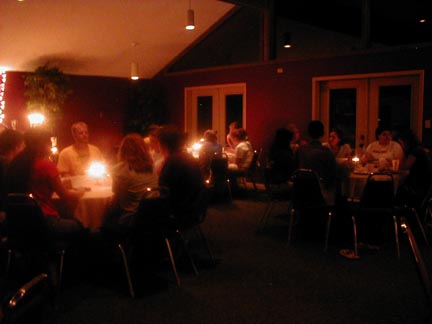 Once the students arrived, the room filled with warm and easy conversation, laced with the awareness that we were in the last hours of Mind Games. We kept hearing all day and night, "The week went so fast! I can't believe it's almost over!"
There is no picture for the last part of Friday because it happened after all the Probe staff went to bed. After the coffeehouse ended, and starting at 2:30 a.m., the Ozark staff put together their own version of "Capture the Flag" where the students were Chinese Christians trying to get to the underground church, and the staff were Chinese Communist soldiers intent on arresting them. The game ended just as the sun came up. Almost none of the students got any sleep that night, a Mind Games tradition. STUDENT tradition, that is. . . the Probe staff still had to drive back to Dallas!