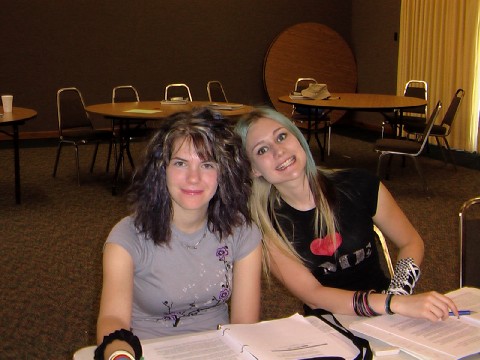 'Morning, glories! Keb Ramey and Bek Davis — so happy to get up early this morning.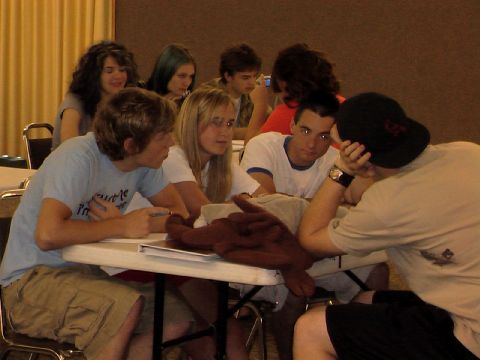 An intense discussion among Joe Peterson, Christina Henderson, Matt Larson, Kyle Morrison, and Taz the Pillow. (Note that Matt's shining eyes show evidence of the many "lightbulb moments" he had throughout the week.)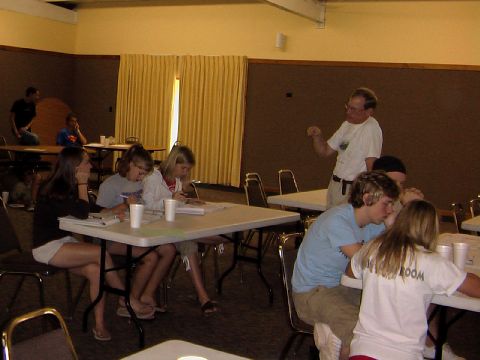 Ray Bohlin discusses "Three Views of Science and Earth History" with MaryJo Mott, Amy Smith, and Grace Waldrop.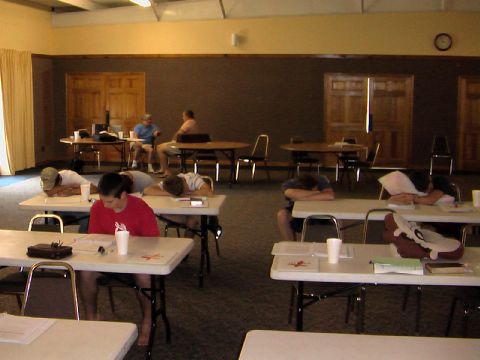 After two sessions on Thursday morning, the guys decided their brains were full (note the row of sleeping beauties).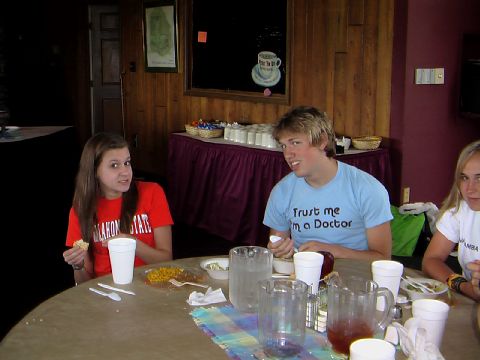 Yes, we love getting our picture taken while we're eating. (Kaitlyn Rothaus and Joe Peterson, and half of Christina Henderson at lunch)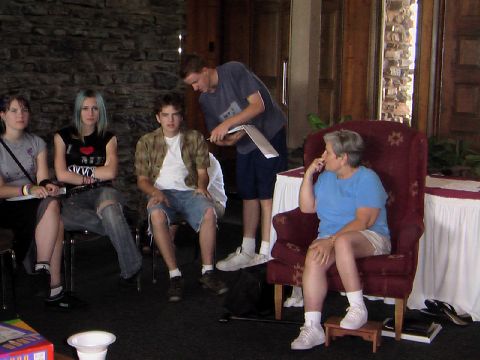 Keb Ramey, Bek Davis, Tyler Bennett, and Jonathan Fix before Sue's Modesty discussion. There is great freedom in this yearly session for both guys and girls to speak their minds honestly about this subject. One of the lasting impressions was that if guys appreciate girls who dress modestly, tell them you appreciate it!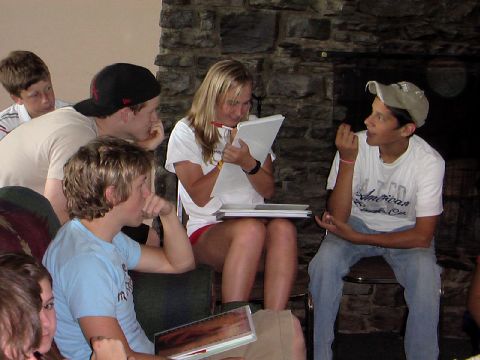 Okay, okay, look at this picture... Christina Henderson writing something that (counter-clockwise) Alan Jennings, Ryan Brooks, Kyle Morrison, and Joe Peterson find interesting.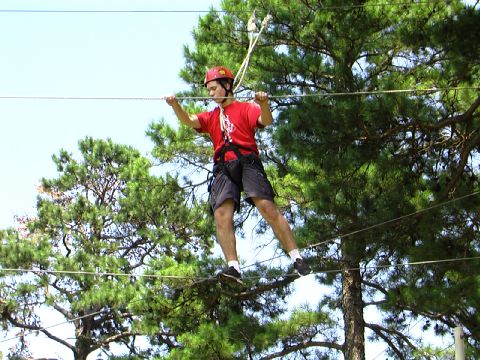 Ben Wright completing the high ropes course. (He did a great job!)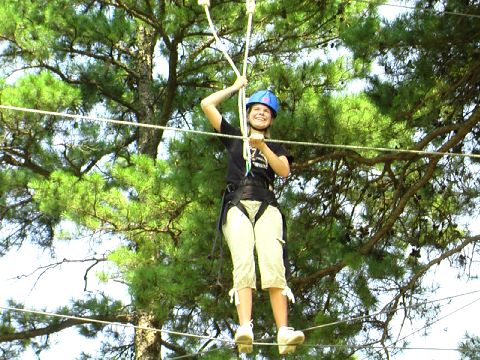 Grace Waldrop managed to smile while walking across a tightwire on the high ropes course.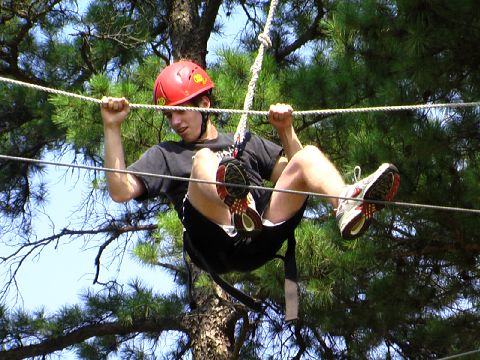 A.J. Rose (a.k.a Spiderman) completed the ropes course in superhero time.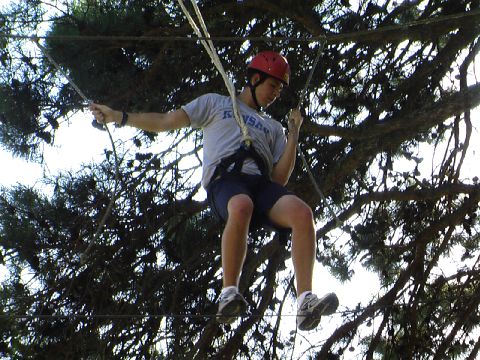 Glen Reeves "monkeying" across the hanging ropes in the high ropes course. . .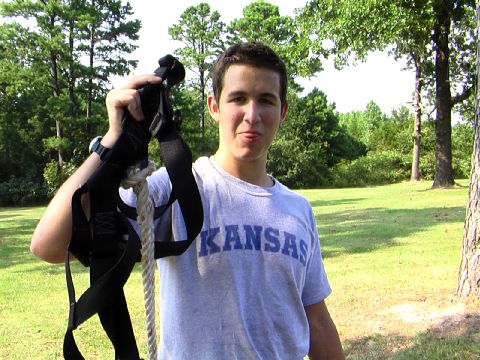 . . .And this is what the satisfaction of not just finishing, but downright scampering through the ropes course looks like.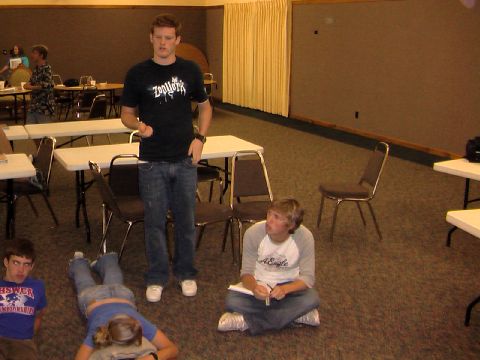 Wait, we get to watch a movie? Kyle Morrison before the evening movie Inherit the Wind.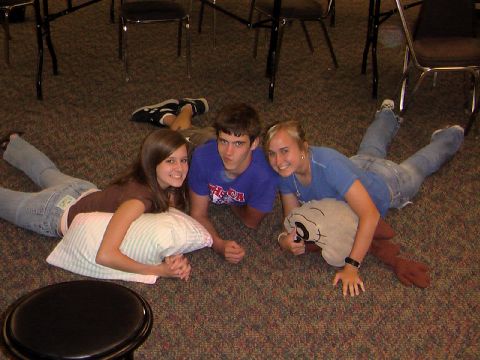 Kaitlyn Rothaus, A.J. Rose, Christina Henderson, and Taz the pillow getting ready for the movie night.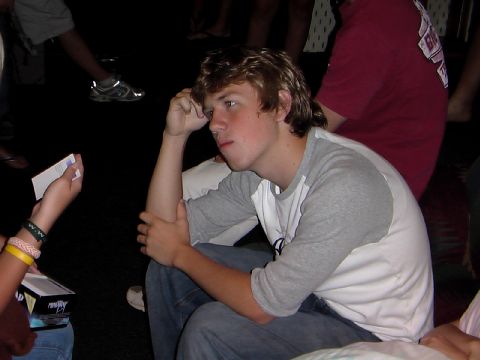 The Thinker — Joe Peterson hanging out after the Thursday evening session.