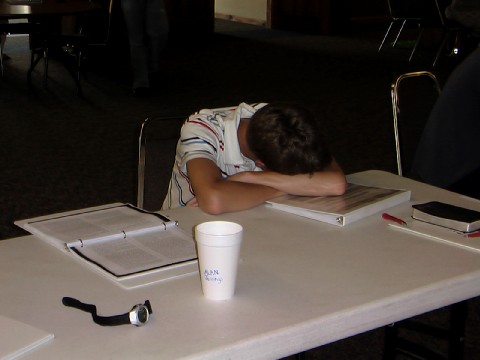 Wake up, Ryan, wake up! You still have two more movies to watch! (Ryan Jennings tries to catch up on some much needed z's.)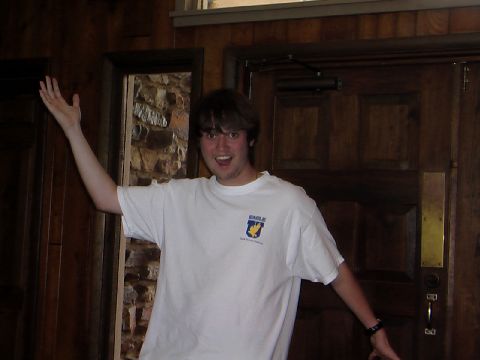 Although Whit Buck is tired and his brain is full, he begrudgingly(!!) poses for one more picture. (Note: this is the same young man who asked if he could bribe us not to get near him with a camera this week! Uh. . . . no.)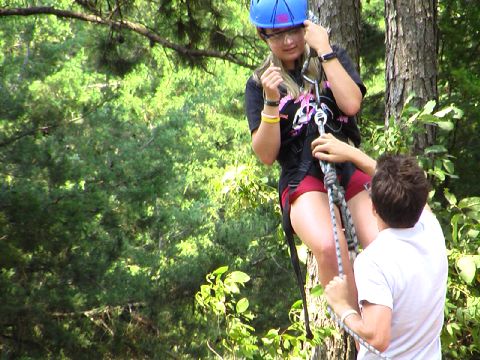 Christina Henderson finishes a thrilling time on the scream swing with assistance from OCC staffer Tim Lewis.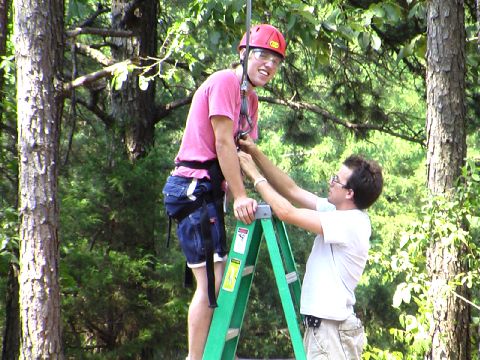 Joe Peterson after swinging through the air on the scream swing.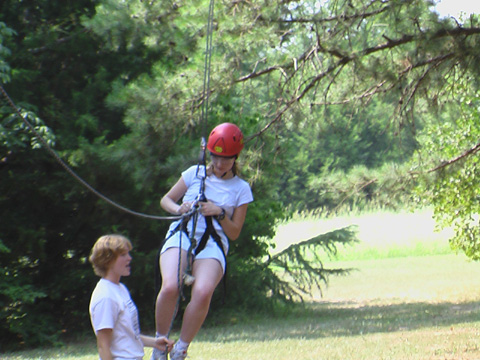 The best part of the week for newest Probe staff member Heather Zeiger was being with the students, including the scream swing. Even serious scientists (with her freshly minted Masters in Chemistry) know how to have fun!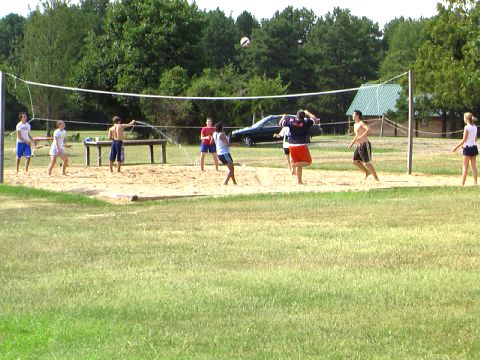 A delightful game of volleyball in the 102 degree heat. It's a lot more fun when you can see the great pool beckoning from just a few feet away!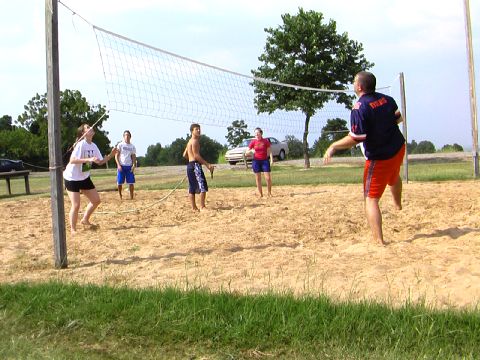 Jason James getting ready to hit the ball.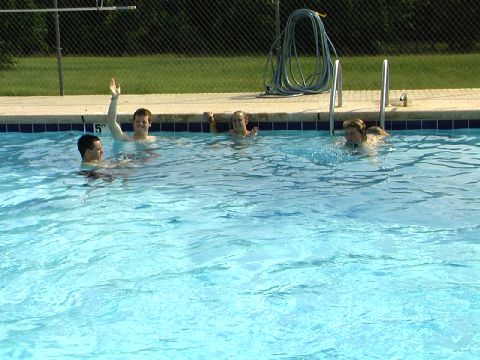 Matt Larson, Kyle Morrison, Christina Henderson, and Joe Peterson cooling off in the pool. This pool was specially designed to accommodate Mind Games activities.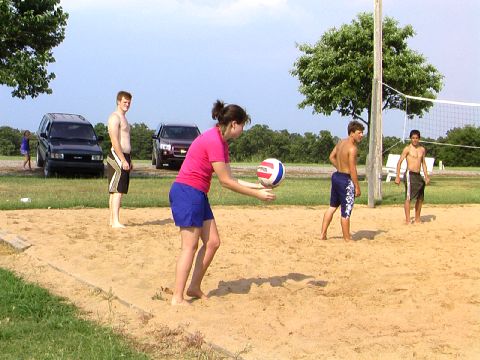 Mary James delivers a power serve.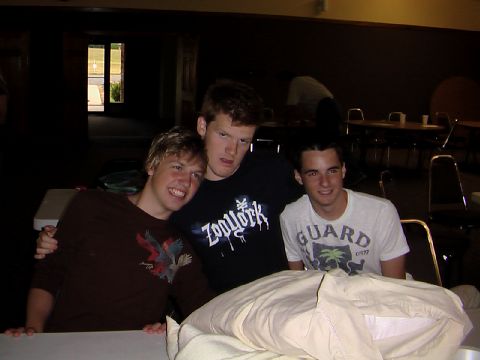 Well, guys, I'm going to miss you.

Joe Peterson, Kyle Morrison and Matt Larson during the final evening session of the week.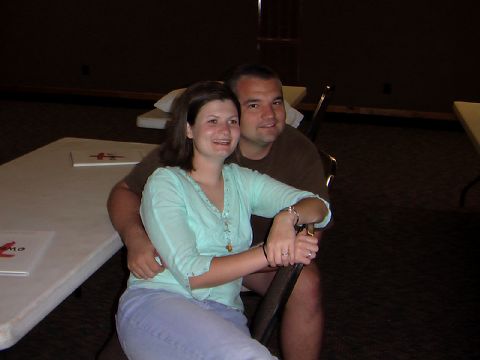 Special thanks to Jason and Mary James—youth pastor in Oklahoma City. They brought several students from their youth group.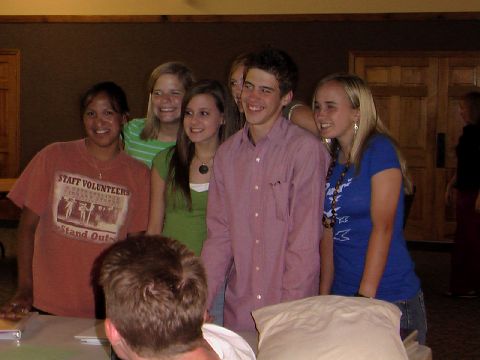 Aww...don't they look cute?

Rachel Smoot, Grace Waldrop, Kaitlyn Rothaus, Amy Smith, A.J. Rose, and Christina Henderson.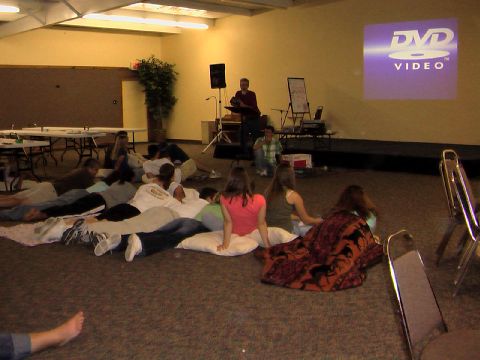 The tables were moved and the lecture room became the movie room Thursday and Friday evening. The students watched a couple of movies from a series about the Ten Commandments called The Decalogue, and then Todd Kappelman led a discussion about them.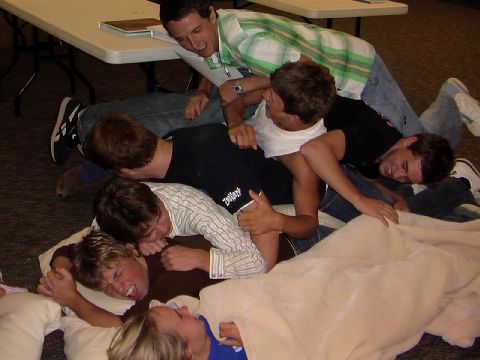 As these guys prove, you are never too old to get dog piled.

Bottom to top: Joe Peterson, Tyler Bennett, Kyle Morrison, David Bostian, A.J. Rose, and Derrick Barivieva. Christina Henderson does her burrito imitation as she safely looks on from just enough of a distance.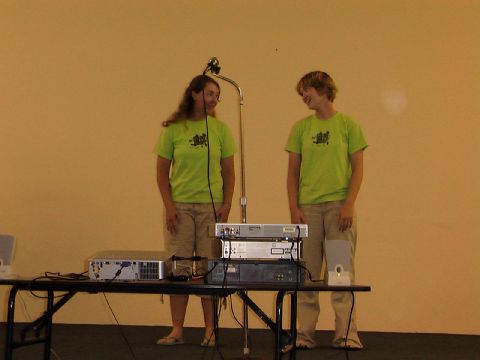 OCC staff sisters Martha and Joanna Mason perform a funny song and dance for our talent show. At the conclusion of the talent show, after midnight, the camp staff had some late-night game for the students. The Probe staff only heard about it; we were safely tucked into our beds by then, totally on empty at the end of a great week, for which we thank the Lord.