This Page:
Conference Introduction

Mind Games
Survival Course Manual
---
Mind Games
COLLEGE SURVIVAL COURSE
A CHRISTIAN WORLD VIEW
PLACES THE LORDSHIP OF
JESUS CHRIST OVER ALL
AREAS OF LIFE AND THOUGHT.
The Mind Games Conference is designed to help young people and adults understand, defend, and live out a Christian world view in today's culture.
I. Understand a Christian World View-
THINK BIBLICALLY!
To develop a biblical framework for all of life and the capacity to think scripturally about life's issues (II Tim. 3:16).
II. Defend a Christian World View-
COMMUNICATE EFFECTIVELY!
To equip Christians with the knowledge and skills to adequately articulate and defend the Christian faith (I Peter. 3:15; II Cor. 10:3-5).
III. Live Out a Christian World View-
LEARN CONTINUALLY!
To create a passion for learning and study in the light of God's Word, and the understanding that this unending search for TRUTH makes one free (II Tim. 2:15; Jn. 8:31-32).
These skills will allow the Christian to minister more effectively as Christ's ambassador, to live a life that counts for Christ.
What tools does the Mind Games Conference provide to allow you to become Christ's ambassador?
Building a Bridge
TO A STRONGER FUTURE

Currents of Secular Thought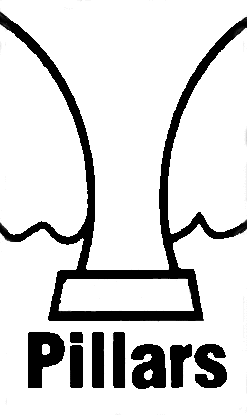 PILLARS OF TRUTH
World Views: What is true?
Human Nature: Who is man?
Defense of the Faith: How do I know that Christianity is true?
Creation/Evolution: What are the origins of life and the universe?
Campus Christianity: How should I live?
Building A Bridge When developing a Christian world view, each Christian must deal with a few crucial issues. These can be seen as "pillars" that provide foundational support for a Christian world view. These pillars are foundational because they address the "big" questions of life with biblical answers. The Mind Games Conference will assist you in both answering these big questions and discerning the "currents of secular thought" in each of these areas.
Becoming A Bridge Answering these questions will also equip you with the tools you need to go into the world as Christ's ambassador (11 Cor. 5:20; Mt. 28:19). just as God "bridged the gap" between heaven and earth by sending Christ, so you can become a "bridge" between the church and the world as you seek to glorify Him in all that you do.
The Results We hope and pray the Mind Games Conference will be a turning point in your Christian life; that not only will you walk away with a vision of how your life can serve as a bridge to those who do not know Christ, but that you will also develop a passion to "love God with all your mind" (Mt. 22:37).
---